Rhode Island Convention Center
BODY WORLDS Vital, Rhode Island Premiere - Opens June 30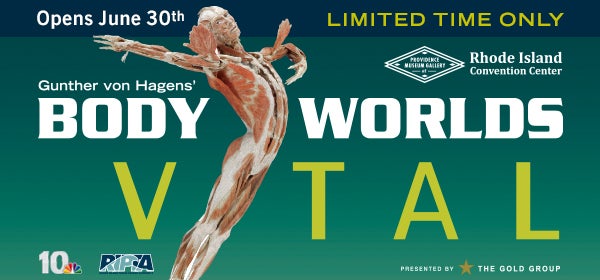 Opens June 30, 2016 for a LIMITED TIME ONLY.
The human body is built for action and experience. Intricately formed for optimal functioning, the living body is designed for survival, striving, and achievement.
BODY WORLDS Vital celebrates the potential of the human body and the body in motion. Featuring authentic human bodies, the exhibition shows the body in health, distress, and disease. These detailed anatomical studies, compositions, and representations allow visitors a penetrating gaze at what lies beneath the skin.
In this collaboration between donors, anatomist, and visitors, the donors – having given legal consent during their lifetimes to participate in BODY WORLDS – act as guides and teachers on this scientific journey.
Don't miss the latest chapter of the BODY WORLDS saga, the trailblazing anatomical exhibitions seen by more than 42 million visitors worldwide.