Rhode Island Convention Center
An Evening with Sophia Loren

November 12, 2019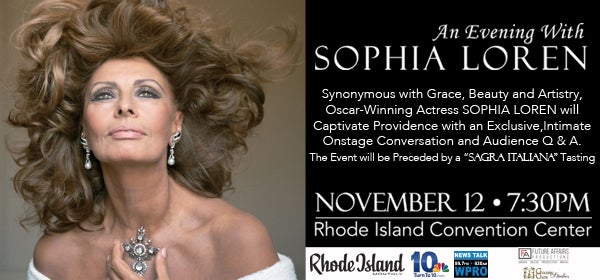 An Evening with Sophia Loren
An Evening with Sophia Loren
November 12, 2019 • 5:30 PM
For One Night Only, the legendary Oscar-winning actress Sophia Loren will be appearing live, on-stage, in An Evening With Sophia Loren at the Rhode Island Convention Center on November 12 at 7:30pm. Synonymous with grace, beauty and artistry, Sophia Loren will captivate Providence during an intimate onstage conversation and Q/A. At this once-in-a-lifetime event, the audience will join in memories about the Hollywood star's life and work. It's a unique opportunity to hear from the lady herself in this rare, live interview. She started her amazing career at the tender age of just 16 and catapulted to stardom with her rare charisma and charm. She was the first actress to win an Oscar for a foreign language performance and has since won countless awards for her work in music and film. Throughout her career – which has spanned almost seven decades – Sophia's worked with legends such as Cary Grant, Charlton Heston, Clark Gable, Paul Newman, and Marlon Brando. To conclude the interview, the audience will have the opportunity to ask Sophia Loren questions in a very revealing Q&A section.
This event will take place at the Rhode Island Convention Center on November 12th at 7.30pm.
The evening will also include a pre-event food festival, "Sagra Italiana", where guests will be able to enjoy tastings from some of Rhode Island's finest restaurants.
"SAGRA ITALIANA" Participating Restaurants to Include:
ANGELO'S PALACE PIZZA
BASTA
BETTOLA
BLUEFIN GRILLE
FLEMING'S PRIME STEAKHOUSE & WINE BAR
GRACIE'S
GREGG'S RESTAURANT
IL MASSIMO
LOBSTER POT
SARTO RESTAURANT
TWIN OAKS
and more!!!
LOCAL SPONSORS:
Tickets Info

Tickets can be purchased online with Ticketmaster.com, in person in advance at the Dunkin' Donuts Center Box Office.

Prices listed do not include service/convenience fees.

Price

$200 / $125 / $95 / $75

Availability