Rhode Island Convention Center
Art Providence Show

November 8, 2019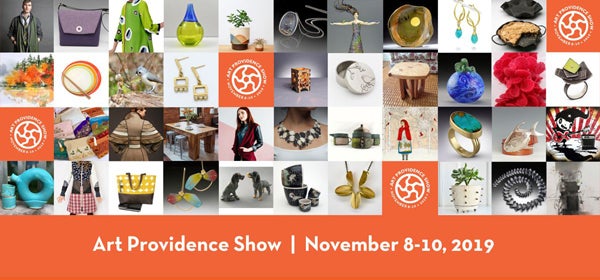 Art Providence Show
November 8 - 10, 2019
Estimated Attendance: 4,000
Event Hours:
Friday 5:00pm - 8:00pm
Saturday 10:00am - 6:00pm
Sunday 10:00am - 4:00pm
The Art Providence Show was created in 2017 to replace RISD's well-loved, long-running annual holiday sale upon its cancellation. While maintaining the same location and much of the pre-existing audience, the show differs from RISD's in that it is juried and open to all artists/makers/designers working in the included categories – including but not limited to RISD alumni. The new format has received rave reviews and swiftly gained a reputation for attracting some of the country's top makers and designers. This year's show will take place November 8-10 at the RI Convention Center in downtown Providence.
Friday is Preview Night! Open to the public from 5:00 p.m. – 8:00 p.m. and featuring Happy Hour from 5:00 p.m. to 6:00 p.m. Get a FREE beverage voucher with your paid admission from 5:00 p.m. to 6:00 p.m. Beat the weekend crowd - get dibs on one-of-a-kind pieces. Buy handmade, meet the artists in person, enjoy local food favorites, cash bar, live music, artists demos and more all weekend long!
Over 150 artists, makers and designers will be showing and selling their work - including but not limited to RISD alumni, who come from throughout New England and beyond. In the spirit of similar shows run by the American Craft Council, CraftBoston and other premier art and craft institutions, Art Providence Show artists' work has been juried by a panel of experts active in art, craft and design. Show categories include ceramics, fiber decorative, fiber wearable, baskets, furniture, glass, jewelry, leather, metal, mixed media, painting, photography, printmaking, prints, sculpture and wood.
The show is not-to-miss for collectors, designers, holiday shoppers wanting to beat the crowds and anyone passionate about all things handmade. Back by popular demand will be the kids' art activity area and a local food favorites sampling area. There's truly something for everyone!
Additional Links
Tickets Info

This event is open the public.

*Single Day Admission / Children 12 and Under are Free

Tickets can be purchased the day of the show - Cash or Credit Card.

Price

$10*

Availability