Rhode Island Convention Center
Life: Boomers & Senior Expo

October 29, 2016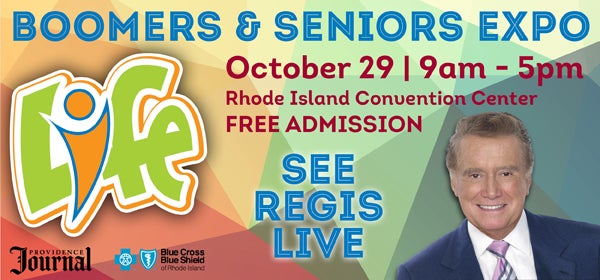 Life: Boomers & Senior Expo
Life: Boomers & Senior Expo
October 29, 2016 • 9:00 AM
Life: Boomers & Senior Expo
October 29th | 9am - 5pm
The Life Expo, presented by The Providence Journal and sponsored by Blue Cross and Blue Shield of Rhode Island, is the premier resource for all things important to seniors and baby boomers - health & wellness, health screenings, assisted living, real estate, travel, financial planning, shopping (jewelry, fashion, accessories, items for the home) food, entertainment, fitness and more. Celebrity Guest is Regis Philbin! Admission is Free. Convention Center parking $10 – Validation Ticket available at registration.
Additional Links
Tickets Info

Admission is Free.

This event is open to the public.