Rhode Island Convention Center
Beyond Van Gogh: An Immersive Experience

May 17, 2022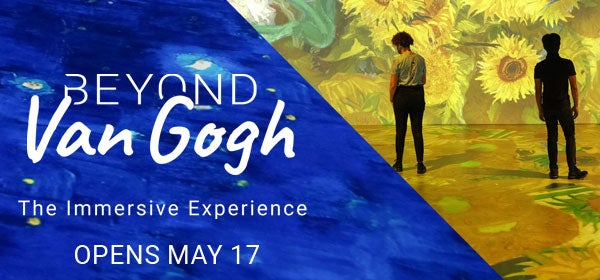 Beyond Van Gogh: An Immersive Experience
Beyond Van Gogh: An Immersive Experience
May 17 - July 8, 2022
May 17 - July 8
Sunday-Thursday : 10 am - 9 pm
Friday-Saturday: 9 am - 10 pm
Last entry is one hour before closing.
Beyond Van Gogh: The Immersive Experience is coming to Providence at the Rhode Island Convention Center from May 17, 2022- July 8, 2022. Featuring more than 300 of Vincent Van Gogh's artworks, this family-friendly exhibition takes art lovers into an exhilarating 3-dimensional world. Created by French-Canadian Creative Director Mathieu St-Arnaud and his team at Montreal's world-renowned Normal Studios, Beyond Van Gogh: The Immersive Experience guests witness the artist's stunning masterpieces, including instantly recognizable classics as "The Starry Night," "Sunflowers," and 'Café Terrace at Night." Now freed from their frames, Van Gogh's art is thrillingly brought to new life as it swirls and dances across walls, floors and ceilings. Guests are wrapped in light and color that focuses and refocuses into the flowers, cafes and landscapes of his iconic artworks. A new appreciation of this tortured artists' spectacular work will emerge as guests travel through artworks that ebb and flow, and hear Van Gogh's own words set to an eclectic mix of contemporary music. Beyond Van Gogh: The Immersive Experience will strengthen guest's appreciation of his stunning works.
For more information & tickets visit here.
Tickets Info

$39.99 for adults, $23.99 for children 5-15, Group tickets for 8 or more available

Availability