Rhode Island Convention Center
55th Charismatic Anniversary Celebration

July 29, 2022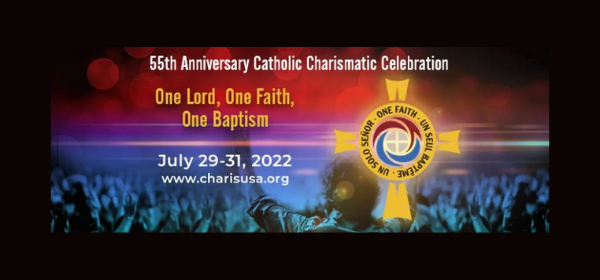 55th Charismatic Anniversary Celebration
55th Charismatic Anniversary Celebration
July 29 - 31, 2022
Ready to celebrate the explosive birth of the Catholic Charismatic Renewal that has now reached over 160 million people worldwide?
The 55th Anniversary Celebration – CHARIS USA Conference is July 29-31, 2022at the Dunkin Donuts Center in Providence, Rhode Island. Register today at CharisUSA.org and begin a pilgrimage of preparation and prayer.
Bring your family, friends, and neighbors, prayer group, church, and community. ALL are welcome.
This is a historic event, the first ever in-person CHARIS USA National Conference. Prayer Groups, Covenant Communities, Renewal Centers, Ministries, Clergy, Religious and individuals from across the nation and from different language groups will come together to pray in unity and be sent out with hearts on fire to fulfill the CHARIS commission for each person who has received baptism in the Holy Spirit to: BRING baptism in the Holy Spirit to the whole Church, BUILD unity in the body of Christ, and SERVE the poor.
For more information, click HERE.
Friday, July 29, 2022

TBA

Saturday, July 30, 2022

TBA

Sunday, July 31, 2022

TBA