Rhode Island Convention Center
R.I.S.E Women's Leadership Conference

September 8, 2022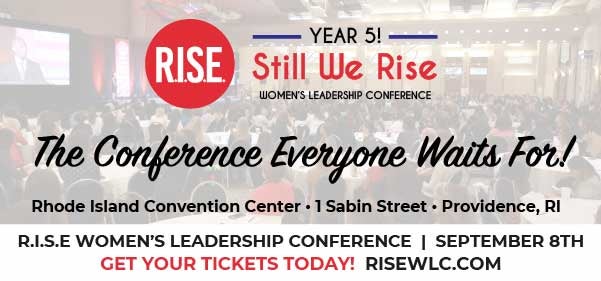 R.I.S.E Women's Leadership Conference
R.I.S.E Women's Leadership Conference
September 8, 2022 • 1:14 PM
R.I.S.E (Realizing Inspiration & Sustaining Excellence) Women's Leadership Conference brings discussion, thought leadership and connectedness across a diverse and broad range of phenomenal women. The conference is inspirational, motivational discussing issues of gender parity, social-economic, and workplace equality. Our vision is to transform and change the lives of all women to create life parity and balance.
R.I.S.E. MISSION STATEMENT
R.I.S.E is here to help inspire, connect, recognize and support women of all ages in the workplace, entrepreneurship and beyond founded in the importance of paying it forward to the next generation. R.I.S.E is a nonpartisan and nonprofit annual event dedicated to the goal of connecting women across various ages, professions and diverse backgrounds to bring discussion around eliminating gender, pay, and socioeconomic gaps.
In addition, R.I.S.E is deeply invested in the young women of today who will be leading the world and futures of tomorrow. We partner with many great organizations that positively shape the lives of youth for the future. After all, the outcomes of tomorrow are grounded in the efforts of today!
Price

$75, $150, $250

Availability